Briercrest Christian Academy and College to Resume In-Person Education for Fall 2020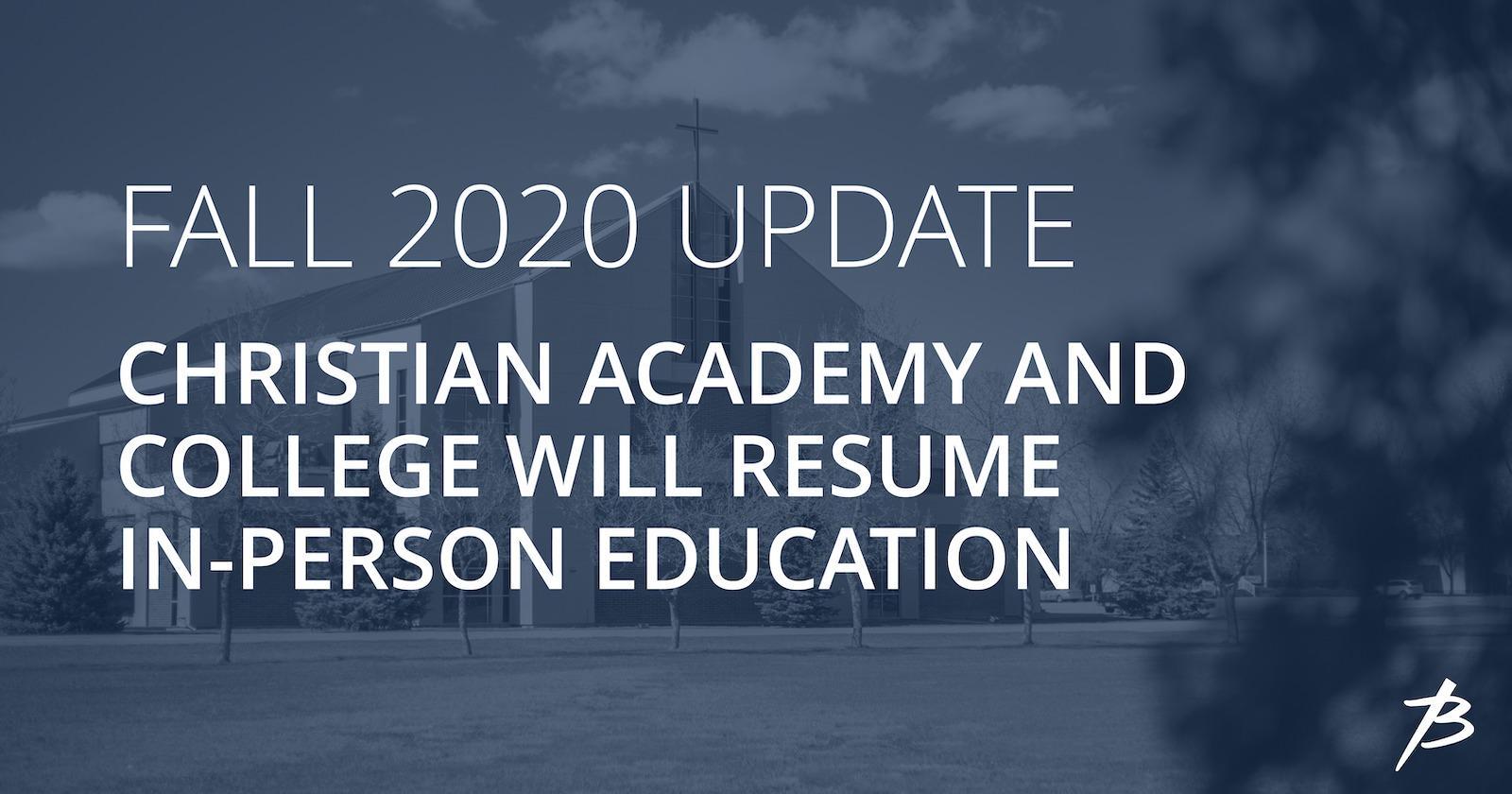 Briercrest Christian Academy and College will resume in-person education on campus for the Fall 2020 semester following consultation with the Saskatchewan Health Authority. Briercrest will proceed with a combination of face to face instruction while also accommodating online instruction. The Briercrest campus and dormitories will be open to Christian Academy students September 1, 2020 and to college students September 4, 2020.
The Fall 2020 Return to Campus Plan has been developed by a special COVID-19 committee in concurrence with the anticipated progression of Stage 4 of the Re-Open Saskatchewan Plan. Briercrest's Return to Campus Plan aligns with the dictates of the Saskatchewan Health Authority (July 9, 2020 update). Both the Fall 2020 Return to Campus Plan and the staff and faculty of Briercrest will remain adaptable to emerging circumstances as well as evolving best practices related to public protocols and policies.
President Michael Pawelke commented, "We will exercise utmost vigilance and care in creating a safe environment for absolutely everyone on campus. Our commitment as an educational institution is to provide an excellent educational experience and build a rich discipleship community in spaces that keep students safe from harm."
Briercrest College will adjust their in-person course delivery to a modified tutorial format in order to reduce class time and student/teacher contact. As well, they will shift their Fall semester model to a 15-week semester made up of two seven-week sessions with one modular or reading week in between. Students will be asked to take no more than 2 face-to-face classes per condensed semester. The seven-week model allows for minimal impact on student schedules if the model changes and face-to-face classes are no longer deemed safe for students and staff.
Briercrest Christian Academy aims to operate with maximum flexibility in their programming. They will run an alternate day and semester schedule in the coming year, featuring five two-month semesters, each with two main classes per day. The Prairie South School Division will publish finalized directives for classroom protocols on August 24, at which time details will be circulated to parents of BCA students.
Principal Deborah Ike said "We are looking forward to welcoming our students back to BCA. We are praying and preparing for the ministry through education that we are excitedly anticipating with our students this Fall."
Briercrest will be providing online courses for international students and Seminary students for Fall 2020.
More Resources and Information:
Briercrest College:
Free Fall 2020 Return to Campus Ebook
Return to Campus Webinar Series
Briercrest Christian Academy:
Free Fall 2020 Return to Campus Ebook
Return to Campus Webinar Series
Briercrest Seminary:
Fall 2020 Semester Information
Full Briercrest Return to Campus Plan