Prairie and Briercrest Partner for MDiv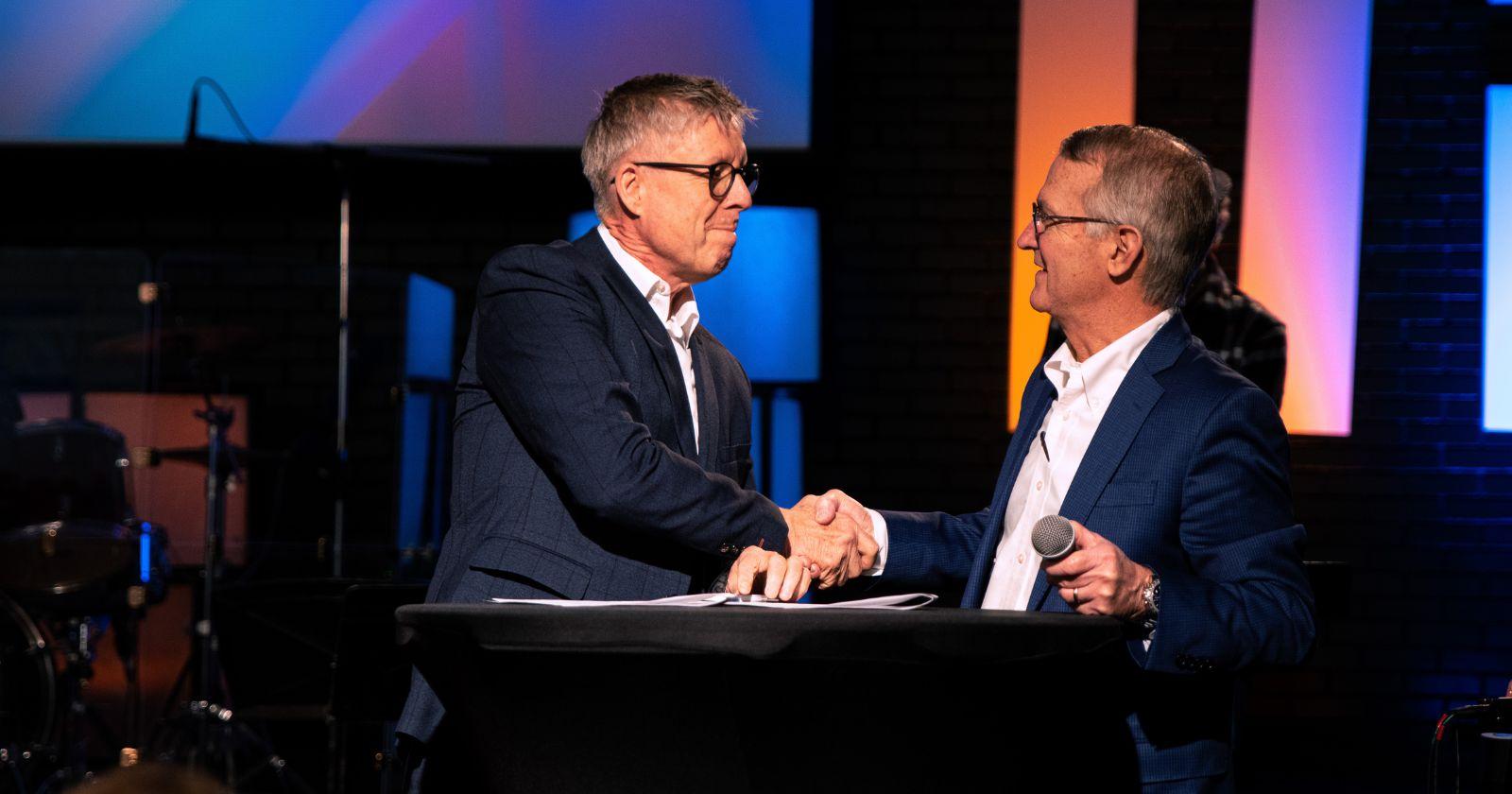 On March 7, 2023, President Michael Pawelke met with President Mark Maxwell of Prairie College to sign a Memorandum of Understanding for an exciting new partnership between the two Christian educational institutions.
Representatives from Briercrest and Prairie met to ratify an agreement to benefit Prairie College students pursuing their master of divinity. The MOU outlines the new Integrated Bachelor of Arts in Ministry + Master of Divinity, which allows students to complete both degrees in a reduced five or six years as opposed to the typical seven-year span. Not only will this make further studies more accessible, but it will also strategically promote the enrolment efforts of both schools.
Michael Pawelke pointed out why partnerships between Christian higher educational institutions are so important: 
While Christian Higher Education continues its critical work of providing an education that will serve the Church and its mission, it is becoming increasingly strategic and prudent to look for ways to work together and cheer each other on. I am very thankful for this formal step with our sister institution, Prairie College. This MOU will help our ministry students continue their education and ministry preparation in a timely and well-stewarded manner. Indeed, Prairie and Briercrest share much in common and working together in this way will certainly benefit students, our respective schools, and the Church.
In the following weeks, Prairie and Briercrest will collaborate to offer a program that enables students to finish the requirements of both degrees in fewer credit hours. Students in the Integrated B.A.M + M.Div will benefit from completing 160 credits, compared to 192 credits, if they were to take each program separately. Therefore, taking this pathway would mean that students can graduate with an MDiv from Briercrest Seminary at a lower cost than taking two separate degrees. Prairie's website says students will receive "A deeper and broader theological education with less duplication between levels of education."
Don Taylor, Provost & Dean of Briercrest College, explained why the partnership made sense:
Our history and mission are so similar to Prairie's that we have always sensed a shared commitment in our service to God's kingdom and in raising up disciples for Jesus. A pathway from Prairie College to Briercrest Seminary seems natural. Students will enjoy the best of both institutions in an effective pathway toward senior leadership in churches.
The signing of the Memorandum of Understanding between Briercrest Seminary and Prairie College marked an exciting day for both institutions and their students. Through this strategic collaboration, both schools aim to provide ministry students continued access to a similar mission, vision and shared commitment to serving the Church.