Women push back against Trojans
Posted: November 25, 2019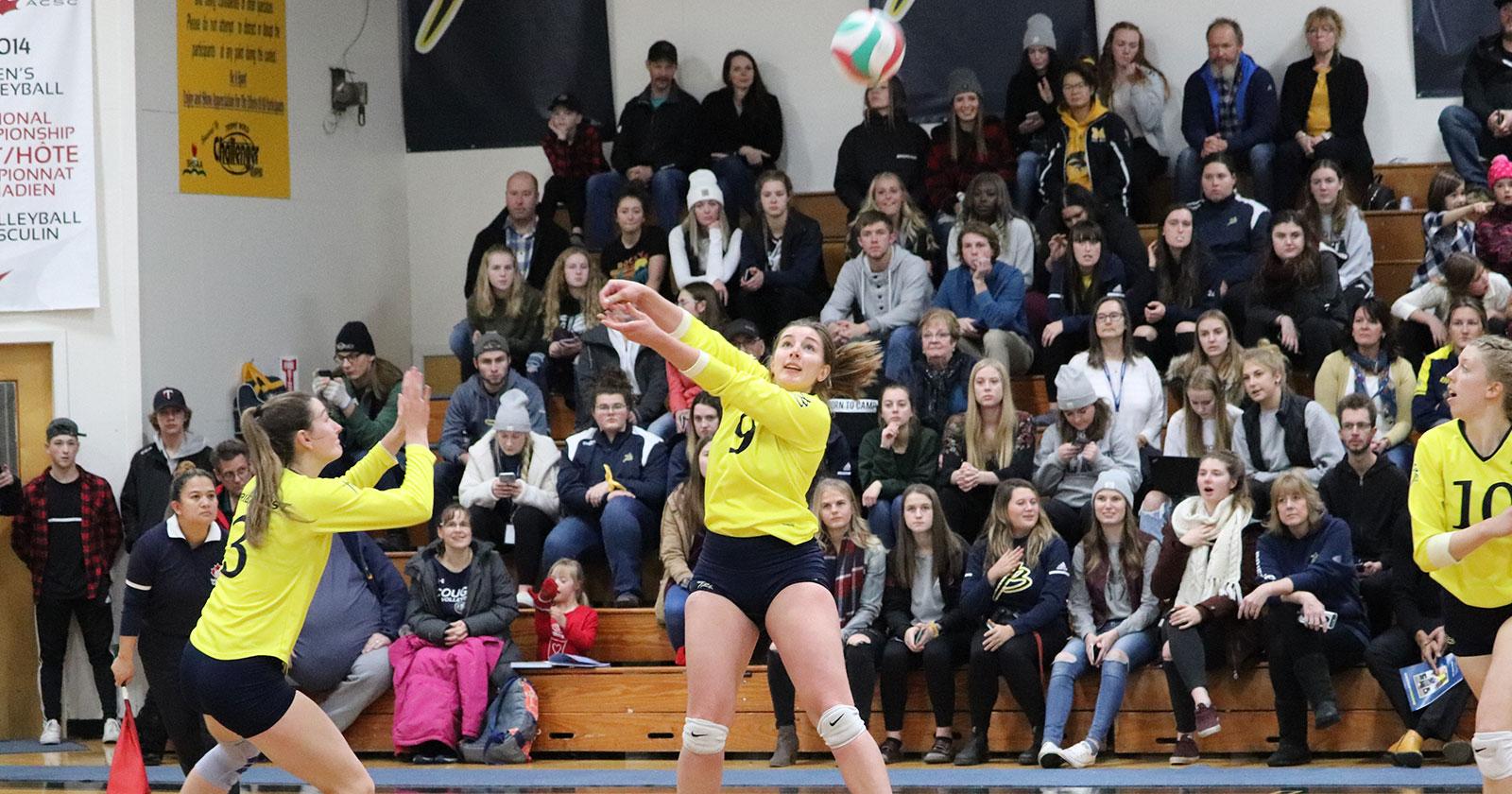 Friday night saw the Briercrest Clippers hosting the SAIT Trojans for their first matchup of the season. The Clippers were 8-0 and looked to continue their streak.
The Briercrest women opened the scoring, taking the lead and never surrendering it for the entirety of the set. The Clippers began to build on their lead, forcing the Trojans to call the first timeout of the game at 13-6 for Briercrest. The Clippers continued to build their momentum, causing another Trojans timeout at 21-13. Although the Trojans scored five more points, the Clippers never let off and took the first set 25-18.
The second set saw SAIT score first, and although Briercrest pulled ahead with an early lead the Trojans were able to tie the game at 6's. The Trojans then found their groove, building a lead on the Clippers and forcing them to call a timeout at 10-6. Leading by three, the Trojans continued to keep the Clippers on their heels, never surrendering their lead and causing another Briercrest timeout at 22-19. Although the Clippers pushed to 21 points and forced a SAIT timeout at 24-21, the Trojans were able to capture the second set 25-21.
The Trojans took the first point of the third set, but the Clippers pushed back with a vengeance building a quick lead a forcing a SAIT timeout at 10-3. The Clippers continued to build their lead, finding their groove and pushing SAIT to call their second timeout at 17-9. Briercrest continued their onslaught, finishing the third set 25-17.
Building off their third set victory, the Clippers hit the ground running, pushing the Trojans to call a timeout at 14-4 for Briercrest. The Clippers were fully in their rhythm, and keeping their 10-point lead forced another Trojans timeout at 23-13. Each team scored twice more to end the set with Briercrest winning the set 25-15.
Player of the game for the Trojans went to outside hitter Jadyn Leong, who recorded 13 kills, 6 digs, and 5 aces. For the Clippers, the award went to middle Mikayla Benterud, who put up 10 kills, 7 aces, and 3 blocks. Benterud comments, "It was great to be challenged tonight. As a team it gave us a great opportunity to fight back and put in a strong team effort. We look forward to the challenges to come."