Men win in tight game
Posted: February 17, 2019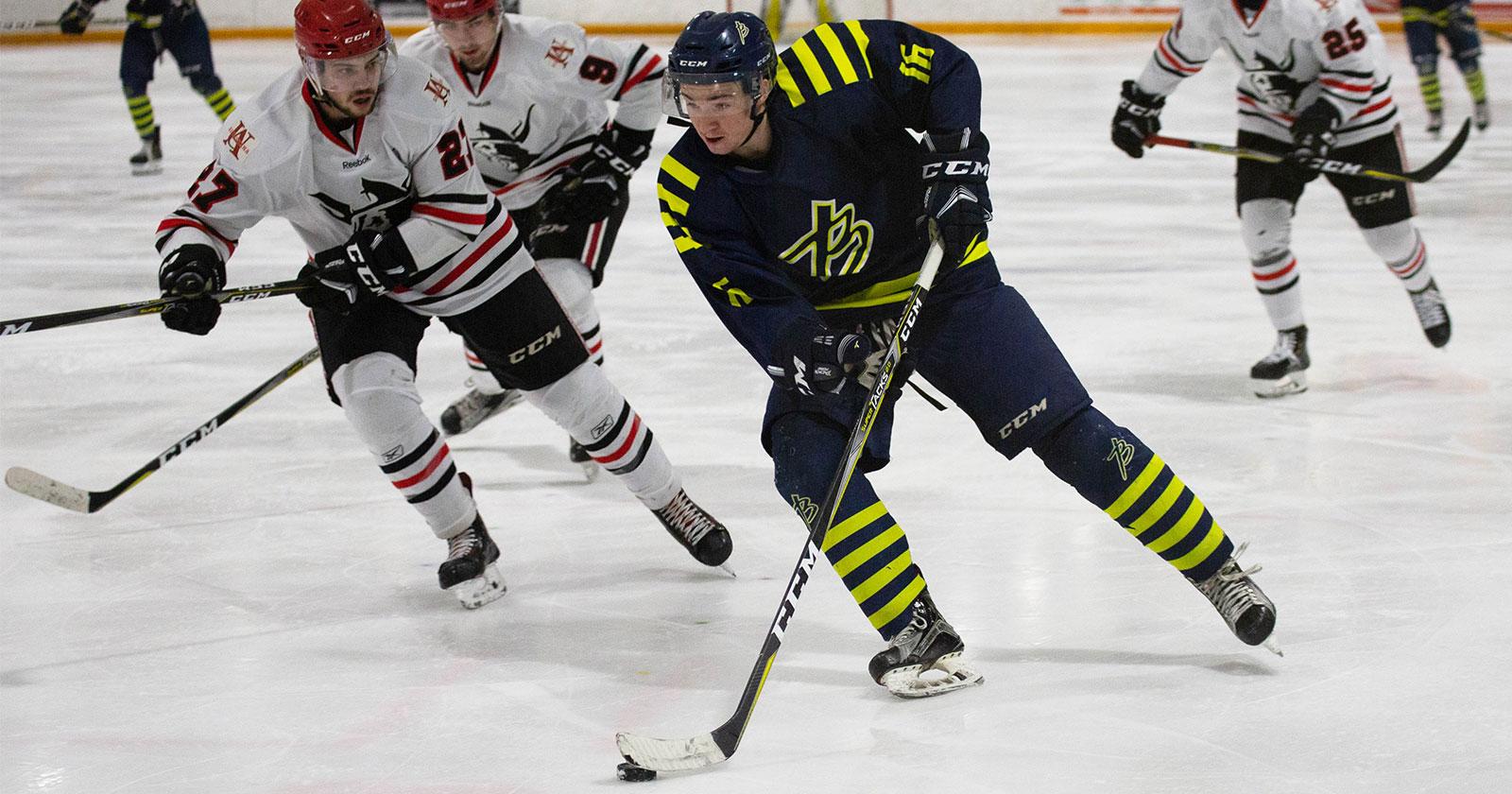 On a frigid Friday night the Concordia University of Edmonton Thunder and the Briercrest Clippers were set to do battle with playoff implications on the line. These teams are only separated in the standings by a mere three points entering tonight's game.
After travel delays to Concordia's bus saw the game get pushed back two hours both teams came out a little tense to start the game. It wasn't until 6:34 into the first period that someone was able to solve a goaltender with CUE #23 Rory Davison beating Briercrest's Daniel Dekoening with a wrist shot high blocker side, assists going to #4 Patrick Carlin and #6 Ben Sowa. The teams began to settle in with neither team wanting to give an inch. This resulted in both teams seeing a steady stream to the penalty box. Briercrest would even the scoring when #15 Dawson Atamanchuk would beat Concordia goalie Tanner McCorriston from the slot, assists going to #7 Josh Mitton and #2 Ryan Laird. That lead would be short lived when Concordia #4 Patrick Carlin would walk in from the point. Concordia would carry that lead into first intermission.
The second period started with the two teams exchanging lots of physical play. The only action of the second would be Briercrest tying the game at two, when #19 Josiah Friesen would convert on a 2 on 1 with line mate #15 Dawson Atamanchuk, the other assist went to #13 Ben Feere. The two teams were deadlocked 2-2 as the horn sounded to end the period, setting up a very exciting third.
The third period began with both teams exchanging close calls to open the period. Tension began to mount as neither team wanted to give the other the chance to go ahead. At the midway point of the third Concordia would convert on the power play as #26 Cory Santoro would find the back of the net from the high slot, assists going to #23 Rory Davidson and #6 Ben Sowa. Briercrest would quickly answer on a power play of their own when #23 Jackson Siemens let a rocket go from the point beating McCorriston just under the bar. Assists on the goal went to #13 Ben Feere and #20 Russell Olson. The teams would remain tied till the dying minutes of the third when #14 Austin Kozluk would slip one five hole to give Briercrest the lead after some slick passing in the offensive zone. Concordia would push for the equalizer but would come up short, falling to the Clippers 4-3.
After the game POG #15 Dawson Atamanchuk (1G, 1A) was asked about his teams effort. He stated that "he felt his team set the tone early and were able to capitalize on our opportunities when they presented themselves."
-Article by Blayd Anholt