Vikings win first game against Briercrest
Posted: November 18, 2018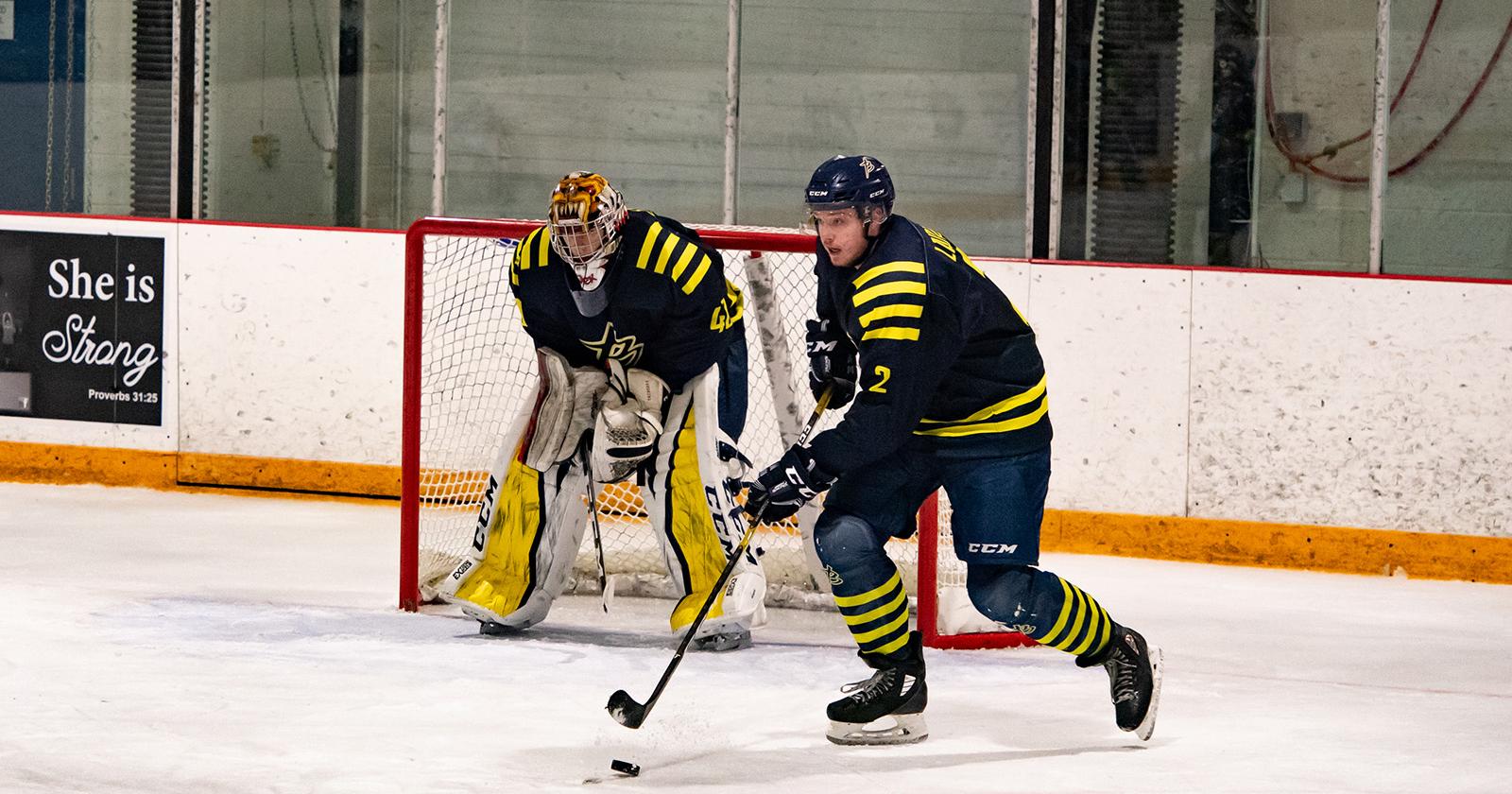 The Briercrest Clippers face off against the Augustana Vikings on Friday night during Alumni weekend at Barkman Arena. This is the first time the two teams have met this season.
The Briercrest Clipper Alumni started with the retirement of Briercrest alum, Darcy Haugen's #22 jersey and a ceremonial puke drop in his honour. Darcy leaves behind a legacy at Briercrest both on and off the ice. He led the 1998 and 1999 Briercrest Clippers in scoring, and impressed the coaches with his refreshing humility.
1st period started with both teams coming out of the gates hot. Halfway through the first period, neither team has yet to score and no penalties handed out. First penalty handed out to Briercrest's #21 Cale Kindrachuk, 2 minutes for elbowing at 10:50. Briercrest is able to kill off the penalty and keep the score 0-0. Augustana first on the scoreboard at 17:01, goal to #16 Evan Warmington, assist to #10 Carter Danczak and #11 Owen Sobchak. Second penalty handed out to Augustana player #25 Reed Gunville, 2 minutes for hooking; Briercrest is able to make use of a one-man advantage, #4 Ryley Cribbin tying the game at 19:47, assist to #14 Austin Kozluk and #17 Joe Roach. End of the 1stperiod has the score tied 1-1, with shots on goal 15 for Augustana and 7 for Briercrest.
2nd period starts out tied 1-1, but Augustana quick to take the lead at 0:08; #10 Carter Danczak, assist to #11 Owen Sobchak and #16 Evan Warmington; Augustana leading Briercrest 2-1. Augustana extends the lead at 1:07, goal to #17 Adam Oscevski and assist to #22 Travis Mayan. Augustana dominates the 2ndperiod; making the score 4-1 at 5:48, goal by #24 Cody Fiala, assists #51 Jimmy Sheehan and #96 Jarod Hovade. Augustana penalty to #24 Cody Fiala, 2 minutes for tripping at 8:55; allowing for Briercrest to make use of yet another one man advantage; goal by #18 Josh Boelema, assisted by #4 Ryley Cribbin and #14 Austin Kozluk at 9:59. Bench minor handed out to Augustana for too many men at 12:29, served by #91 Cody Young, but Augustana is able to work offensively and score a shorthanded goal, his second of the night #17 Adam Oscevski, assisted by #77 Mitch McMullin. Briercrest takes two more penalties to #23 Jackson Siemens for hooking at 14:37 and #27 Chad Davidson for hooking 15:32. Augustana gets a penalty with 10 seconds left in the 2nd period, #97 Dillan McCombie for cross-checking. End of the 2ndperiod has Augustana up 5-2, with shots on goal for the period 15 for Augustana and 7 for Briercrest.
The 3rd period starts with Augustana shorted handed, but they are still able to sink one in the net at 1:11; his second goal of the night by #24 Cody Fiala, assisted to #22 Travis Mayan. Augustana player #16 Evan Warmington takes a boarding penalty at 2:22, giving Briercrest an opportunity for another potential power play goal. Augustana is able to hold the score at 6-2 and kill off the penalty, but is back to a one-man disadvantage at 7:57 when #22 Travis Mayan gets a slashing penalty. Briercrest is able to set something up on this power play, scoring at 8:04 #14 Austin Kozluk, assisted by #4 Ryley Cribbin. Augustana scores a goal at 10:22 #91 Cody Young, assisted by #24 Cody Fiala and #25 Reed Gunville. Augustana leads Briercrest 7-3 halfway through the 3rdperiod. Briercrest gets another power play opportunity when a high stick penalty is called on Augustana player #27 Ben Lanfermann; Briercrest player #18 Josh Boelema scores his second of the night, assisted by #14 Austin Kozluk and #2 Ryan Laird. Briercrest's' #21 Cale Kindrachuk gets a 2 minute head contact penalty and 10 minute misconduct at 13:22. Augustana handed out two more penalties before the end of the game; #7 Joren Johnson for slashing at 15:40 and #9 Tavis Roch for holding at 17:09. Briercrest tries to make use of a power play pulling their goalie, Augustana is able to use this opportunity for a empty net goal at 19:06, his third of the night #24 Cody Fiala. The game is concluded 8-4 for Augustana, shots on goal 43-24 in favour of Augustana.
The player of the game for the Briercrest Clippers is #14 Austin Kozluk with 1 goal and 3 assists and the Augustana Vikings #24 Cody Fiala with a hat trick and 1 assist. Player of the game for Briercrest #14 Austin Kozluk saying "[Briercrest] could've played a more physical game. [They] needed to move their feet, needed to play the body a bit more but [they] were trying and just weren't able to get the puck bouncing in [their] favour."
Briercrest will be at Red Deer College next weekend.