Why Do We Retreat?
I never intended to be a Caronport lifer.
The extent of my time here was supposed to be a few years to finish my degree. Almost 15 years later, (and almost 21 since I started at BCA), it seems like this is home now.
And I now love it. Caronport is a great place to come home to... assuming I'm able to leave it for a while. The truth is, though I love it here, I need to retreat away from my normal life at times.
I think this is common with most of us. It may be a vacation down south, camping up north, or maybe a trip to the mountains. These moments of retreat take us out of the daily grind of our normal lives and let us enjoy a breathtaking change.
Retreat is so important for our minds, our hearts, and our souls.
When these retreat moments are more spiritual in nature, they are sometimes characterized as a 'spiritual mountaintop experiences.' And while I've met many people who are down on creating these moments for youth and young adults, especially while I was getting my Youth Ministry degree in the mid-2000s, I've learned they can be critically helpful for a young person's spiritual formation. Creating these moments for youth and young adults has been a hallmark of Briercrest for generations.
We need the mountains
Scripture will talk about the storms of life coming—that there's ups and downs and hills and valleys. Jesus also teaches about the narrow path and the wide path, and counsels us that the narrow path is not easy. There are all these allusions to life not being a static, easy, the-same-thing-every-day kind of life (enter Lego Movie analogy).
Meanwhile, all throughout the story of Scripture, we see key figures retreating out to the mountains to meet with God. As much as He is present in the storms and valleys and along the narrow path, He is also waiting up on the mountaintop to meet with us.
There's something about the mountains and about what we experience there that our hearts and souls yearn for. Nobody sells a mug that says, "The flatlands of Saskatchewan are calling, and I must go."
While we don't stay on top of the mountain, we do use that experience. We use the breath and life it gives us and we safely journey down the mountain to live life with our chins a little higher and our shoulders a little lighter.
To use a classic Briercrest experience as an example, no one goes to Banff for breakfast because it's a practical thing to do. You do breakfast in Banff because it's breathtaking. You go up the mountains because that's an image and an experience that you can't duplicate anywhere else. And it is inspiring, and it's encouraging, and it breathes life into you.
In the same way, events like Youth Quake, or experiences like a year at Briercrest, can give people that same mountaintop experience.
Why fight it? If the Lord is using retreats to impact people for His Kingdom, why not embrace it?
Actually, the definition of a retreat, both in terms of the way a youth group would retreat, as well as the way in which, historically, Christians would retreat away out of everyday life to be with the Lord—both of these definitions mix on Youth Quake.
One of the things that people always say when they first come to Youth Quake as a teenager is, "I never knew there were this many Christians! I never knew that there were this many people in high school that cared about Jesus. I'm the only one at my school and I just want to stay and live here."
While we don't stay on top of the mountain, we do use that experience.
We use the breath and life it gives us and we safely journey down the mountain to live life with our chins a little higher and our shoulders a little lighter.
After Youth Quake, we go home encouraged because we remember that we're not alone in this, we know more about following Jesus, and we have deeper relationships with other believers for the grind, for the valleys and storms that come our way.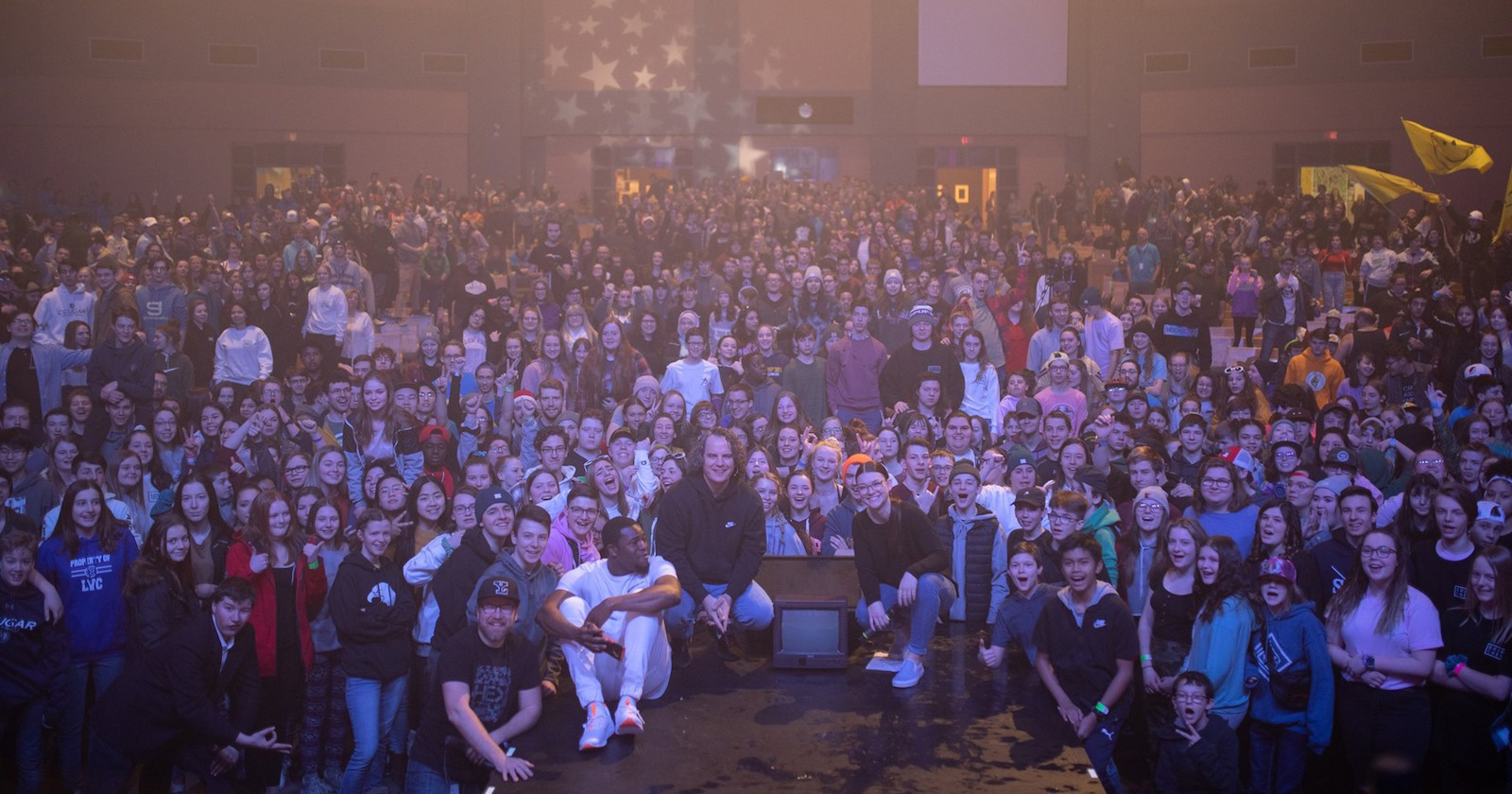 I am intensely aware that I need these moments as a little boost to my own following of the Lord.
I need to retreat away from life from time to time and get a fresh perspective and to rest. I need to play at times with my friends so that I'm better and more focused at work. I need time with my kids and time away from my kids so I can be better when I'm with my kids.
These are the rhythms and pendulums that swing for us in this life. And some of those mean being atop a mountain sometimes. Why fight it?
With Youth Quake, there are lots of ways that we could try to minimize all the extras and make the weekend as ordinary as possible for the 1800 people on the room. It would still be out of the ordinary.
So why not maximize the mountaintop? Why not build the gondola?
The power of retreating out together
A few years ago, the Lord started to show me something surprising.
In my ministry context, I was excited to be running the Alpha film series with a group of high school kids.
All the things I recognized as incredible about Alpha, like the content, the videography, and the personalities, were there. But once we got in the room and started to work through the videos, I was surprised to see that the biggest value of these videos was the way that they paused right in the middle of the content to create space for students to stop, to think, and to discuss.
Actually, all along, the most valuable thing taking place around us was not the entertainment. It was the intentional conversation that we got to host.
That's when youth group time came into the picture for Youth Quake, because another powerful part of the mountaintop experience is that you return bonded with the people you hiked up with.
We decided to cut back of some of our entertainment, some of the games and some of the useless stuff that we throw in to get some laughs or to get some energy up, and instead carve out 15 to 30 minutes after every Main Session for youth group time. This created a really intentional space right in the middle of the content for youth and youth workers to stop, to think, and to discuss.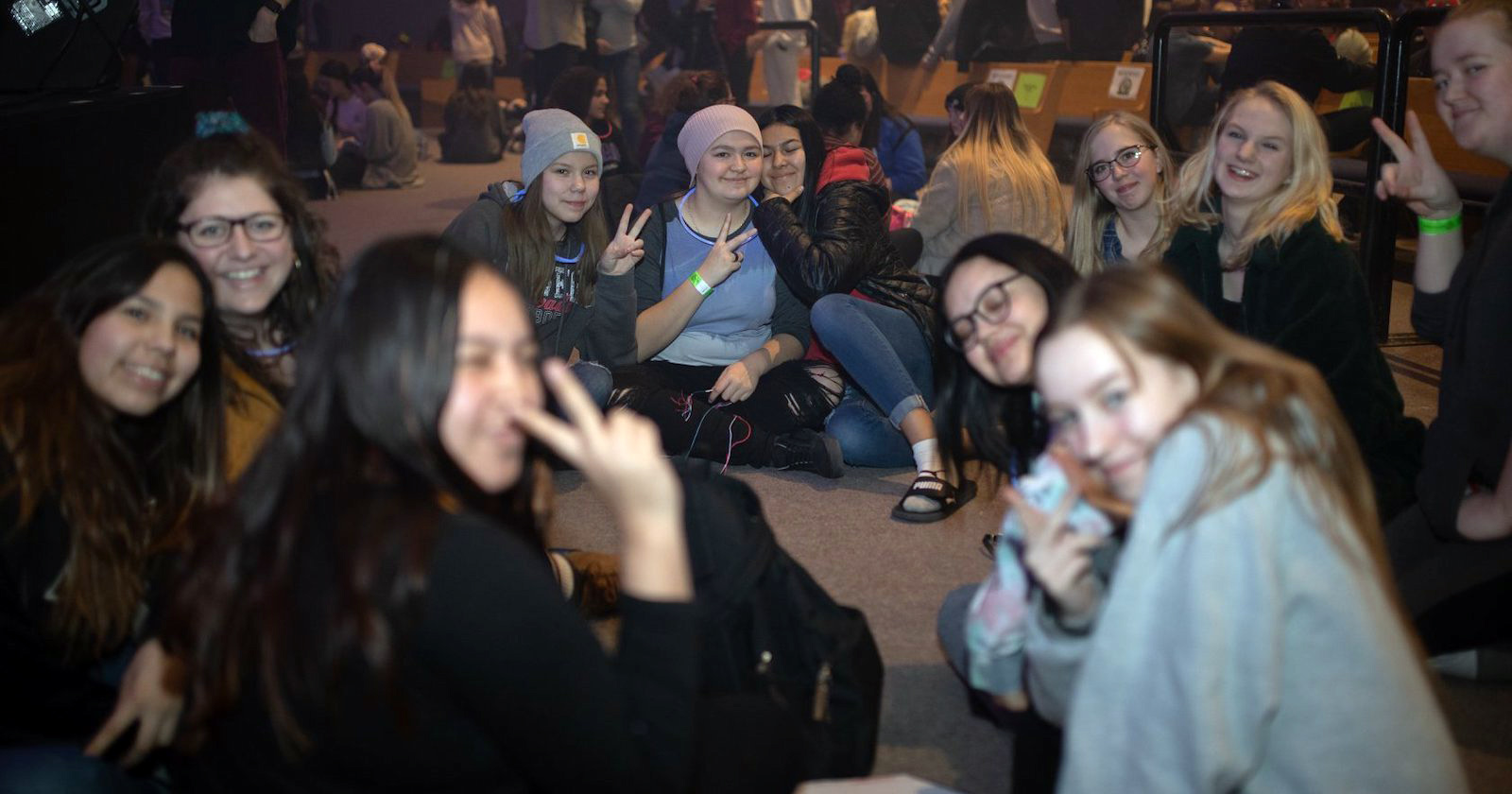 And a couple years later I would get people talking to me about other events and saying, "It was pretty good, but it wasn't like Youth Quake. They don't have youth group time or anything like that." I'd always thought Youth Quake's reputation was the party and the concerts. But all of a sudden, we were being defined by youth group time, and the intentional nature of helping groups retreat out together.
Mountaintop clarity
When you're up a mountaintop, there's not a whole lot else going on your mind. You're away from life, you're away from your schedule, and hopefully even your phone is away (other than to get those pictures).
One of the things that youth workers will always say on their first visit is, "It's just so different that the kids can't go anywhere." There are no McDonald's or malls within walking distance. There's just these four fields and our Briercrest facilities.
Our location actually serves to take that worry off of a youth worker and give them space to just enjoy the relationships and invest in the common experience with their kids. Those relationships are actually one of the most important aspects of Youth Quake because they carry on into life after the retreat—help youth back down the mountain.
A lot of our groups utilize Youth Quake as that retreat out of the everyday. So leaving Regina, or Winnipeg, or Medicine Hat, or Humboldt, or wherever you're leaving, and showing up to this little town called Caronport where you can't really walk anywhere else gives you that that same sort of mountaintop experience.
Helping people down the mountain: As part of the post-YQ devo series, we encouraged our retreaters to continue following Jesus with the help of a church community. You can find the seven-part series on Youth Quake's Instagram channel.
We had a Youth Quake app that had all the info in one place for our retreaters, and we ditched it two years ago because a lot of our groups actually recognize this and have their kids leave their phones at home.
That doesn't happen in the same way when you're coordinating rental cars and hotel checkout times and where to eat next and navigating routes. This is the retreat at Briercrest. Youth Quake takes care of all that stuff and makes space for us to be in relationship and to be focused on the Lord and focused on that common experience.
Why retreats matter for youth and young adults
One of my favourite things about Youth Quake is that it gives us a chance to show what the community of Briercrest is capable of in a small dose.
Sometimes we say that it's a big façade that I lead it or that Kait Giddings, the Assistant Director of Youth Quake, leads it, and that's because we get all this attention for Youth Quake, but I think 80% of the event is actually just default Briercrest location, facilities, and positioning.
And while Youth Quake is this amazing retreat we get to steward, it couldn't happen in the same way without the retreating aspect that's core to Briercrest, too.
In the College, almost everyone lives in dorms for their first three years. So as young adults decide to come to Briercrest, they experience this idea of retreat in a community of believers—a breathtaking change of pace from normal culture and the ruts of life.
Choosing to come here is actually a decision to remove yourself from normal life and to retreat out here with the Lord, and with other believers. The combination of university-credentialed academics and a Bible college atmosphere means that this is an education that disciples.
As young adults decide to come to Briercrest, they experience this idea of retreat in a community of believers—a breathtaking change of pace from normal culture and the ruts of life.
Spiritual formation is woven into the fabric of the Briercrest "retreat" experience, which is so important for our students' hearts, minds, and souls. Sometimes this means a complete renovation of the heart, and sometimes it's simply a time to naturally refocus and re-evaluate your life trajectory and your relationships.
Whatever the case, to remove yourself from the life that you have been living, to focus on community and on the Bible, to have chapel every day, and to be taught by only Christian professors is an awesome way to retreat out with the Lord.
For more on Youth Quake, visit our website or check us out on Instagram.